'Getting to Know You' introduces you to pastors and ministry leaders within the Fellowship of European International Church network. In this story, we highlight Pat and Brenda Mahar, pastors of International Christian Fellowship in Padova, Italy.
Share with us a little about your life growing up.
Pat: Brenda was an MK and grew up in Ghana, West Africa from the age of 3. I came from a career military home. Pat was born in Europe and as a young boy, settled with his family in Jacksonville, Florida. Brenda studied Office Management. Pat had a remarkable transformation at 17 years of age and was called to preach 4 months later.
Tell us how you met the Lord: when, where, and how He changed your life and your life's direction.
Pat: Brenda met the Lord early in life being from a ministry/missionary home. Pat grew up Catholic, but his family was miraculously introduced to the AG- Pentecostal Church when he was 14. There were a lot of ups and downs, but the Lord's will prevailed.
How did you guys meet each other? Tell us about your children.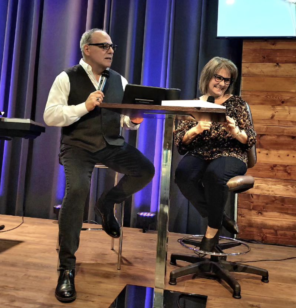 We met in 1984 at Southeastern University in Lakeland, Florida and were married a year later.
We worked a total of 8 1/2 years as Associate and Lead Pastor stateside before accepting our first missionary assignment in 1994. We served in the countries of Cameroon and Botswana, Africa for a total of 18 years, before the Lord led us to Europe.
We have two children:
• Marissa Mahar Barker, who serves with her husband Matt at International Christian Fellowship Athens, Greece. They have two children, Luca, and Lina Lucia.
• Marco Mahar and his wife Courtney have served in Pastoral ministry for 8 ½ years and were recently appointed with AGWM to work in International Church Ministry in Budapest, Hungary. They have one daughter, Giuliana.
How did God lead you to Europe and briefly describe your assignments before Padova?
In 2010, we were on deputation in the U.S. when we received a call from the then pastor of ICF Athens about filling in for them on the way back to Botswana, Africa.
Pat was eager to get straight back to Africa and continue their church planting ministry there.
However, the persistence of this pastor and the hand of the Lord together orchestrated a grand shift in their plans. From that moment, one miracle after another further confirmed their decision was in the Lord's will.
After serving 7 years in Athens, Greece at the ICF Athens and being instrumental during the Syrian Refugee Crisis, God prompted us, for reasons unexpected, that a move was inevitable. AGWM presented the Church in Padova, but Pat and Brenda were at first reluctant to step in where a legacy pastor had founded and died. However, after praying and visiting other places of ministry, they came back to pray about and ultimately accepted the pastorate at ICF Padova, Italy.
One of the signs that God was behind everything was that Pat had begun the process of Italian citizenship four years prior to their departure from Greece. The weeks after Pat and Brenda agreed to take the church in Padova, his Italian citizenship came through.
What do you find most interesting about living and ministering in Padova?
I think one of the different things about living in Padova is that it feels more German or Austrian, as the people are much more reserved than south of Rome where Pat's family still resides.
What do you think are Italy's greatest spiritual needs?
Since the University of Padova is one of the oldest Universities in Europe, secularism is prevalent.
Describe the nature of the church when you arrived and how it has changed since you first started pastoring?
The church has always been a melting pot of 25 nationalities, however, the University Ministry that we refer to as the ConneXion has been the catalyst that has steered this ship in a different direction.
The number of changed lives, saved, and filled with the spirit has brought life and a renewed vision. We now have students, who have been planted all over the world, many receiving their Doctorate Degrees and now Professors themselves, others are in upper-level marketing for Amazon Europe. Still, others, are regular performers for the Zurich Opera.
You guys went through something unique during Covid with Brenda 'stuck' in Greece and Pat in Padova. How long were you guys separated and how did you navigate that challenging time? Our children pastor the ICF Athens and my wife Brenda left March 5, 2020, for what was supposed to be a weekend trip to Athens and back to attend the baby shower for our daughter and first grandchild. On Saturday, after the shower, and a subsequential doctors' appointment they scheduled an emergency Cesarean Section to take our grandson 3 ½ weeks early due to complications.
The Sunday, the day before his birth, the airways of Europe closed due to Covid. Brenda was stuck in Greece for 3 ½ months unable to return. With only a carry-on travel bag, she and the kids struggled in the beginning, while Pat made it on his own in Italy. We attributed the prayers of many friends, family and churches who sent notes and made phone and video calls to check on us to be the X-factor in all of it. God was merciful!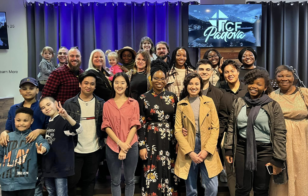 Tell us about the church: describe the people that you want to attract in terms of nationality, age, expats, military, etc.
The church attracts people from all walks of life. Our median age is 28-30. We have many university students who attend on Sunday morning, along with Africans from 6 nations, Filipino's, we have professors from various Universities and of course Italians who are married to foreigners. There are approximately 25 different countries are represented.
What do you feel makes ICF Padova different from the other churches in the city?
Padova is actually very similar to many Europe Cities. The Ancient History and famous works of art are renown and draws internationals from all over the world.
What do you feel are the advantages of being an international church in your city?
We offer Jesus in a family atmosphere. Foreigners enter and the first thing they notice is the friendly acceptance of our people toward every nationality.
What do you enjoy most about pastoring international churches?
It sounds cliché', but it feels like a foretaste of what heaven will be life. I enjoy bringing the cultures from all over under one banner, that makes for a "Jesus Culture!'
What do you find are the greatest challenges of pastoring international churches?
The greatest challenge is probably when one people group wants to push their own culture over that of others. It takes a loving and yet firm hand to bring things under the submission to God's will.
What is your vision for the future of the church?
My vision is to stay strong and healthy so I can continue to do what God has called me to do. To grow this church, and beginning soon to have home groups, and eventually purchase other properties for multiple campuses.